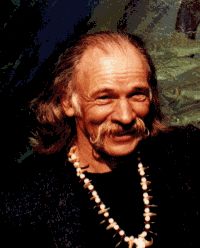 Born on Vancouver Island, Timothy Raven Hume grew up on the sea around the Gulf Islands and on the west coast. He has lived in since Ganges since 1999. A deep interest in wilderness led him to many and varied places from the incredible isolation of the frozen Yukon to lush jungles in Fiji and New Zealand in search of wild tropical parrots, which have become a main focal point his most recent paintings.
"I find that I must express my feelings, my love of nature and all its amazing beauties, in many ways. Writing, about environmental issues that concern me, occupies much of my time. I enjoy prose or poetry and it is exciting that my work is being published. I'm a sculptor too and have over the years excelled in bird carving. Winning many first place ribbons in all the major competitions in western Canada , my work has been collected around the world.
I'm a dancer of the Celtic rhythms and that is the greatest way for me to express my joy in this living. All the rest aside, that is what I love to do the most, dance in the shadows, dance in the dark, dance for my lover, dance for the wild, dance for a lark. Dance. Dance. Dance. True to the End."
Timothy's partnership with Amarah Gabriel of Artangels led them to do paint the well known Landmark Mural on the "Can Buoy" in Ganges. It marks the entrance to Centennial Wharf in Ganges, BC. There are Orcas, salmon, cod, an octopus seals and other marine life adorning the buoy, as well as a Coast Guard cutter and kayaks. The mural depicts what would be seen on and below the water near Salt Spring Island. They will soon be working on the Butterfly Mural at the Island Saving Credit Union Parking lot on McPhillips Ave.
Timothy and Amarah and have also have opened their studio / gallery Dovecote Gallery at 270A Beddis Rd. They are on the studio tour map, #36. They can be reached by email at