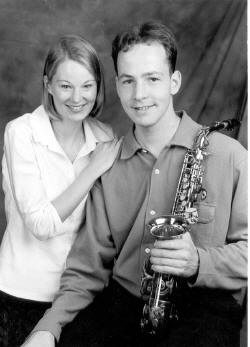 Piano-Saxophone Duo at Music and Munch
An exciting and unusual recital of music for piano and saxophone is promised when Duo Perriam Abbink performs for Music and Munch March 5 2003. Pianist Jacqueline Perriam, a native of Victoria, studied at the Victoria Conservatory of Music, the University of Victoria, the Banff Centre and the Amsterdam Conservatory. She has performed on CBC Radio and with violinist Timothy Haig. With saxophone player Erik Abbink, she has toured throughout the Netherlands. Current plans are to travel extensively in North America. Abbink was born in Holland and has studied at the Enschede Conservatory and the Orlando Festival (Netherlands), in Spain, France, Japan, the U.S. and at the Banff Centre for the Arts. His performances have taken him as far afield as Turkey and Latvia.
"Inspired by the expressive qualities of the combination of saxophone and piano, these two fine musicians started giving their first performances as a duo in the Netherlands and soon became sought-after musicians there." states a Music and Munch press release.
At their first performance in Canada in 1999 they included Murray Adaskin's work Daydreams. Adaskin was in the audience himself and was so excited about their performance that he asked them to record his work for the Adaskin Collection. As a result they decided to study the classical and contemporary repertoire written for the piano-saxophone combination at the Banff Centre for the Arts.
Wednesday's program will include music ranging from West Side Story by Leonard Bernstein to pieces in the more classical vein of Debussy and Schumann. Saxophone enthusiasts will enjoy hearing pieces on soprano, alto, tenor and baritone instruments.
Free music begins at 12:10 p.m. at All Saints' by-the-Sea followed by a delicious lunch for $5.50.